Located steps away from Kyoto Station,
Matsumoto Ryokan features a mix of Japanese-style and Western-style rooms.
We have an uncompromising commitment to using genuine materials, such as earthen walls and authentic tatami (rush mats), handcrafted by traditional artisans certified by Kyoto Prefecture and Kyoto City.
Earthen Walls
Earthen walls have been a feature of Japanese temples, shrines and houses since ancient times.
These walls were devised with insight and ingenuity to maximize comfort in Japan's hot, humid climate.
They absorb moisture and odors from rooms, maintaining a consistent,
comfortable humidity level year-round.

Because they are inherently made with natural materials,
earthen walls create an extremely gentle environment
for sufferers of conditions such as sick building syndrome.
Savor a leisurely stay in a comfortable room surrounded by walls handmade
by certified artisans.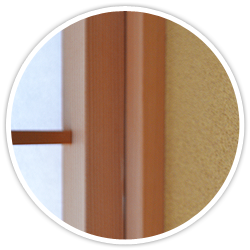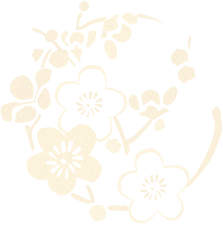 Genuine Tatami
The Japanese-style floors at Matsumoto Ryokan are authentic tatami (rush mats) made by traditional artisans.
Unlike most tatami made today, containing polystyrene and wood pulp board, they have high straw density, excellent elasticity, and a pleasant feel on the feet.

The natural rushes used in this tatami contain various fragrant ingredients and phytoncide, a substance known as "the perfume of the forest," creating a soothing effect like that of a walk in the woods, as well as a powerful deodorizing effect so unpleasant smells do not linger.
We hope that the pleasant and relaxing environment produced by
this tatami will convey the hospitality Matsumoto Ryokan extends to our guests.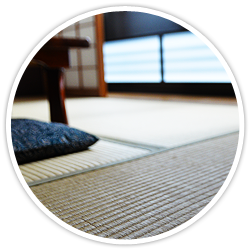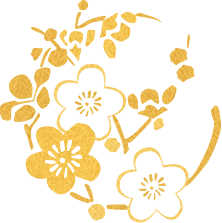 Personal Care Goods
To help all of our guests enjoy a satisfying stay,
we offer premium-quality personal care goods from the Japanese skin care brand DHC.
For many years, DHC has been dedicated to development of personal care goods
with the olive as a core concept, harnessing the life energy and gentleness of nature's own fruit
to produce natural personal care products for beautiful,
vibrantly glowing skin and hair.
Enjoy a soothing bath to wash your cares away as part of your relaxing stay at Matsumoto Ryokan.